This new version brings nearly a hundred more sources (so more than 512 !), and a lot of this new sources are independent newspapers (mainly french ones) gathered in the new Indep. source type (with nearly 128 sources in it).
MediaCites.fr

Rue89 : Bordeaux, Strasbourg, Lyon

SineMensuel.com

Lundi.am

La Relève et la Peste

Sciences-Critiques.fr

Bellingcat

Zelium.info
Actu.fr

Actualite.Nouvelle-Aquitaine.Science

Jacobin.com
In fact, all the sources from the map of the Presse pas pareille from l'Age de Faire have been integrated to Meta-Press.es for this release and I contributed back to them suggestions of sources to add (or stopped one to remove).
Suggested new sources for this map :
NextInpact.com

QG.media

Blast-info.fr

Reflets.info

Novastan.org/fr

AOC.media

ReseauMutu.info
But it's not all, the 2nd big new feature is the dynamic form to add sources without any computer science knowledge ! It's included in v1.8.5 and you can test it now. The current main limitation is that the form only accepts sources that provide results in RSS format (like it's the case by default with WordPress, and should be with SPIP). Currently a third of all the Meta-Press.es sources could have been added using the mouse only and this new source creation form.
The form is in English only, but translations will soon be synchronised with the WebLate account.
Once a source is created, it can be saved in your custom sources. If it works, don't hesitate to post the definition to Meta-Press.es Framagit repository for the next release (provided it complies with the public principles of the project).
The next release will bring the full form allowing to deal with nearly all the sources (RSS, CSS, JSON… GET and POST…). But in the mean time, I'll be tomorrow at the MCH2022 to present Meta-Press.es on Monday.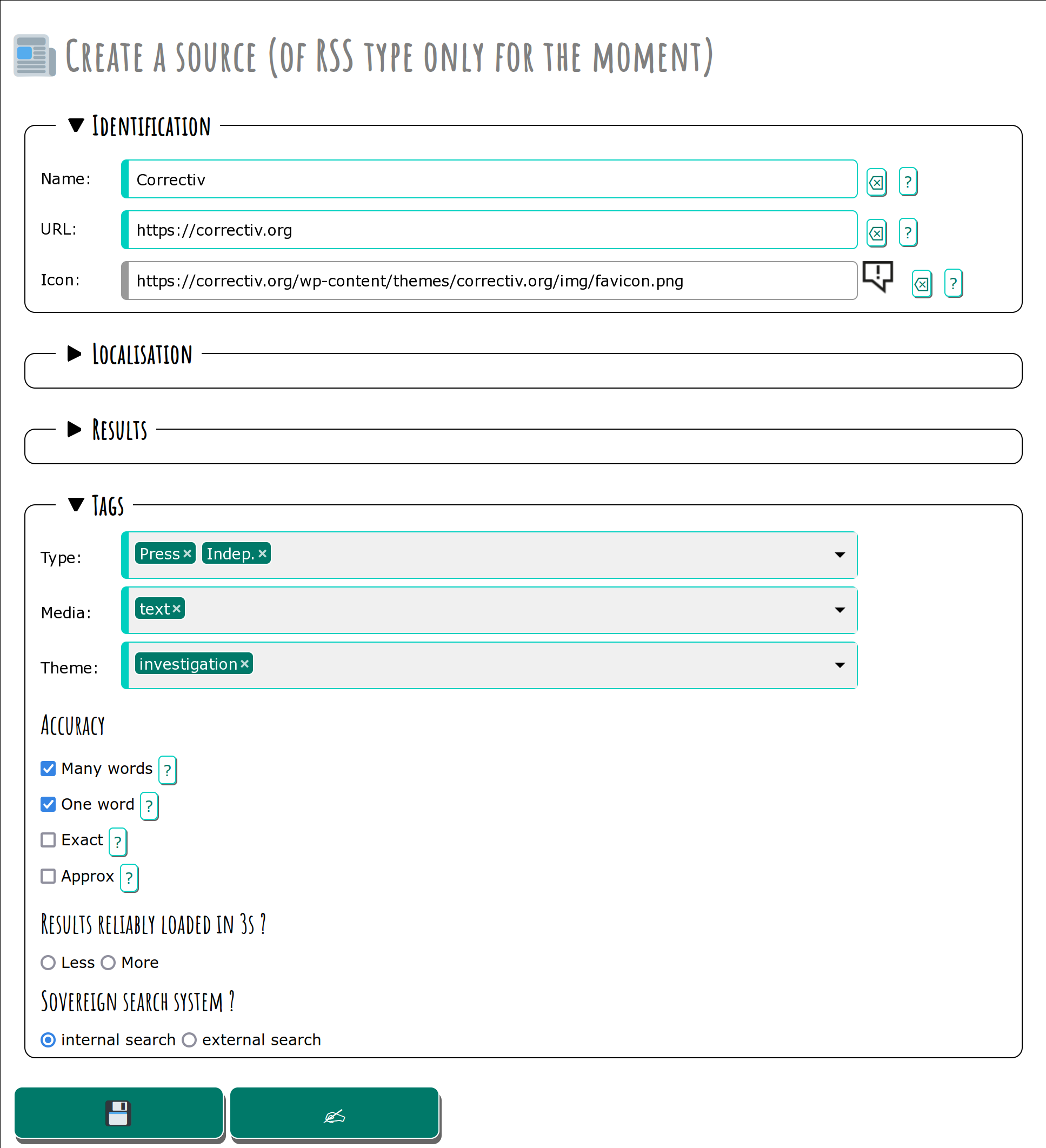 Figure 1. Source creation form